Big Changes to Absentee Ballot Processes to Begin with June 28 Primary

This year the NY State Legislature passed, and the Governor signed, a sweeping package of election law changes designed to make it easier to vote.  One set of provisions affects absentee ballot procedures, so if you regularly vote by absentee ballot or if you anticipate doing so this year, please read on.
A Key Change for Absentee Voters
The new law requires that absentee ballots be counted prior to Election night, rather than afterward as has been the case.  It used to be the case that someone who requested and received an absentee ballot could show up to the polls on Election Day (or at early voting) and cast a regular ballot which would then negate their absentee ballot (whether or not it had actually been returned to the Board of Elections).  That is no longer the case.
In the future, beginning with the June 28 primary, anyone who is issued an absentee ballot will not be able to cast a regular ballot on Election Day or at Early Voting.  They may, at their discretion, cast only an affidavit ballot at the polls.  If the completed absentee ballot was received by the BOE, then the affidavit ballot would not be counted.
You Will Be Able to Track Your Absentee Ballot
Also, voters who request absentee ballots will be able to track their request and whether their ballot was issued, received, or counted via a special website run by the BOE.  This website will be live on April 1,.  Stay tuned to either this website or the
County BOE site
for more information on the absentee ballot tracking site.
Below is a chart, prepared by the BOE, to summarize these key changes in the law.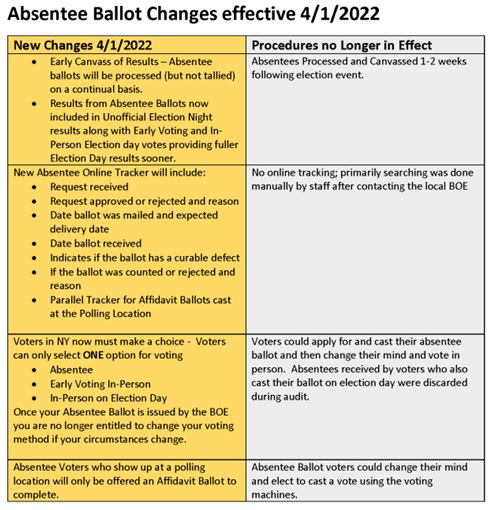 For all voters who have previously applied for an absentee ballot, including absentee voters who have selected the Permanent absentee ballot option, ballots will be issued on May 13. After May 13 applications will be approved and processed within 48 hours of being received by the Board.
To stay up to date on information regarding absentee balloting, or to request an absentee ballot, visit the Ulster County BOE website.  The BOE will also be conducting a public relations campaign to communicate changes to voters.