Jen Metzger for County Executive
Gathering at Kingston City Hall on Saturday, September 17, 183 members of the Ulster County Democratic Committee arrived first to affirm the slate of UCDC officers at the organizational meeting and then to cast their weighted votes for their County Executive candidate among March Gallagher, Jen Metzger and Marc Rider at the Nominating Convention. An additional 60 members were online to do the same. When the votes were tallied at the convention, Jen Metzger emerged victorious with 64.4% of the vote and will be on the Democratic line this fall.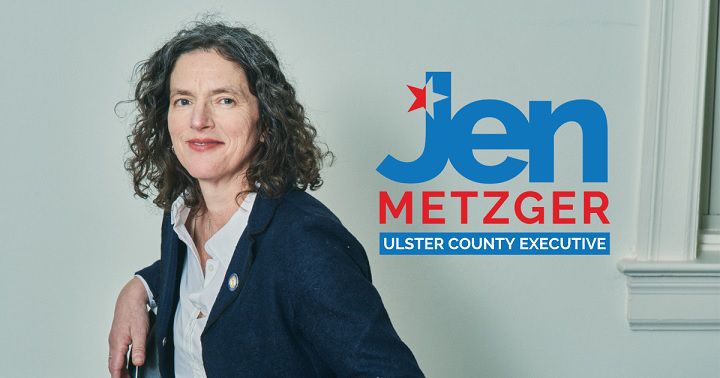 "I am honored by the overwhelming support of the Ulster County Democratic Committee in nominating me to be the Democratic candidate for Ulster County Executive. I hope to have the opportunity to build on Pat Ryan's work," said former State Senator Jen Metzger. "I want to express my appreciation for fellow candidates March Gallagher and Marc Rider for engaging in a campaign of ideas. I look forward to working with them if I have the privilege to be elected."
Who is Jen?
Jen Metzger grew up in a poor family that moved constantly because they couldn't afford a place to live. Thanks to a good public education and her hard work, she changed her own direction in life. Overcoming these challenges has inspired her to work tirelessly for her community and our region.Jen has lived in Rosendale with her husband and their three boys for over 20 years.
Her many volunteer projects in Rosendale include organizing tree-plantings, managing signage projects, working to preserve the trestle, and a hundred other projects that matter to the residents of Rosendale. She served as Deputy Supervisor and multiple terms on the Town Board, and while on the Town Board, she started and ran a nonprofit that successfully fought against rate-gouging by Central Hudson.
As a NY State Senator, Jen was the first Democrat ever elected in her historically Republican district. In addition to passing nation-leading climate protection legislation and laws protecting reproductive freedom, she focused on issues that affect our daily lives in Ulster County, such as broadband access,housing safety, and protecting small farmers.
As a leader on the NY State Cannabis Control Board, Jen is working to establish the most significant new industry in our state in decades, based on principles of fairness and sustainability.
Jen is running against Town of Ulster Supervisor, Jim Quigley, a rich Republican famous for his ill temper.
CONGRESSMAN Pat Ryan
In a ceremony that made the hairs on the back of my neck stick up, our congressman Patrick K. Ryan was sworn in to the United States House of Representatives on the evening of Tuesday, September 13.  Yours truly had the good fortune to be in the House Gallery with Pat's close friends and family.  It was thrilling! Afterwards we met at a Capitol Hill watering hole, The Dubliner, for drinks and something to eat to celebrate.
"This is a moment of immense consequence and challenge for our country. I truly believe it's an all-hands-on-deck moment for our democracy," he said while speaking on the House floor. "I pledge that I will fight every single day with every ounce of my being to deliver for the great people of New York's 19
th
District and to renew trust and faith in our nation."  You can find Pat's full swearing in speech here. If you want to contribute to Pat's campaign or volunteer, please click here.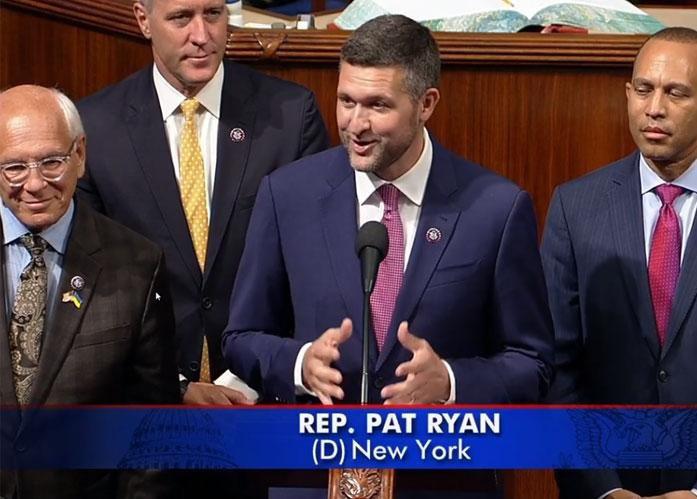 Pat was elected on August 23 to represent the citizens of the current NY 19th congressional district vacated by Antonio Delgado in May when he ascended to Lt. Governor.  He is running now (in the November 8th election) for a full two-year term in the new NY 18th congressional district,  The district lines in this new 18th are very different from the old 19, but both maps include Gardiner.In the November 8 election, Pat's opponent will be a Trump Republican who gave a pep talk to a busload of January 6th protestors.
TIME TO GOTV
With only seven weeks to go until the November 8th election, the Gardiner Democratic Committee is going into high gear to get out the vote (GOTV).  We don't need to emphasize the importance of this election, because you probably know that Democracy is on the line.  Democratic majorities will either stand or fall in each house of Congress and if the Trumpist Republicans get control, they will not only push their anti-government policies, as they always have, they will focus on in limiting voting rights, making abortion illegal in all circumstances everywhere, and impeaching President Biden.  I don't think I'm exaggerating.
The Gardiner Dems will be going door to door, making phone calls and writing postcards to voters, putting up signs and more to GOTV.  As always, here in Gardiner IF WE VOTE WE WIN!  IF WE DON'T TURN OUT, WE LOSE.  Please circle November 8 on your calendar and make sure you vote.  Early voting starts on October 29 and goes until November 6 at the New Paltz Community Center and five other locations around the county.
It's Time For Yard Signs!
Research shows that candidate yard signs DO make a difference in rural areas.  When voters see neighbors they respect with a sign out, they are more likely to vote that way.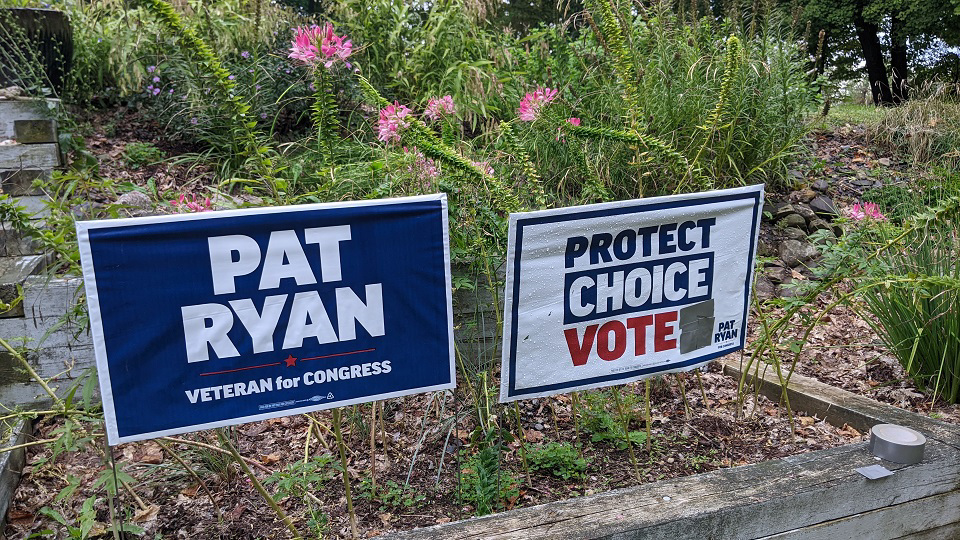 When they see large numbers of signs out for a candidate (especially in front of people's houses, they are more likely to vote that way.  Accordingly, the Gardiner Dems ALWAYS promote putting signs out early on private property and 30 days before elections on public right-of-ways.  If you would like to put one or more candidate signs out on your property,
please click here and fill out the form
.
Be on the Lookout for Sign Theft
One frustration this time of year is that some unscrupulous individuals feel it necessary to steal or destroy their competitors' signs.  This is illegal theft of private property.  We are even getting reports of thieves screaming at homeowners to "take down your sign!"  This is harassment.  If you pass a major intersection and see multiple Colin Schmitt signs (for example) but none for Pat Ryan, it is likely because low-lifes have stolen the Ryan
signs.  Please be on the lookout for anyone stealing or defacing Democratic yard signs and take pictures of the act and the perpetrator's license plate if you think it is safe to do so–these people are cowards, so they are unlikely to stop or intimidate you from photographing their crime.  WE WILL PRESS CHARGES!
Contributions to the Gardiner Democratic Committee
Two weeks ago, the GDC sent out a letter to about 900 Gardiner Dems
, describing the work we do and appealing for funds to continue and thrive at that work.  We hope you received a copy in the mail.  Your contributions keep us afloat and every dollar you contribute is used to elect Democratic candidates.  We have received a number of checks in the mail and credit card contributions.  Thank you for that support! If you received the letter (or not) and haven't gotten around to making a contribution, please don't forget to
make a secure contribution to our organization via our website
.  Or send a check payble to the Gardiner Democratic Committee, P.O. Box 145, Gardiner, NY 12525.  Thank you for your support!
That's all for now.  Please make voting on November 8 or before your top priority!
Best regards,
Tom Kruglinski
Chair, GDC
(914) 475-3601
tom.kruglinski@gmail.com